It's 2023, When you think of Artificial Intelligence in Digital Marketing, the first thing that comes to mind is probably a chatbot or an automated customer service system. While these are certainly important applications for artificial intelligence in digital marketing, there's so much more to uncover about how it could make marketing better. Here are ways AI can improve your digital marketing.
AI in digital marketing has already been used to help companies improve their sales and customer experience. It's already being used in customer service and predictive analytics, but it could soon be everywhere. Here are we going to see artificial intelligence is going to change everything about how we do business online.
What is Artificial Intelligence?
Artificial Intelligence in Digital Marketing Brings a lot of changes and plays a significant role in Digital Marketing. Artificial Intelligence (AI) is the Substitute for human intelligence processed by Machines. It has more capabilities than human minds. Artificial Intelligence can Think, Response, and Take tasks from the collective data like humans but it gives high performance than human intelligence. AI has great work efficiency and accuracy. In Digital Marketing there are lots of uses for AI which will be discussed in this blog.
How is AI Changing the Face of Digital Marketing?
From Google Assistant to Mobile face unlock, AI has impacted various impacts on life in the form of smart devices, chatbot services, and even now automated/self-driving cars which are changing the face of the future digital era.
 Brands and marketers use AI digital marketing to save time and resources through automated digital marketing services.
AI in digital marketing Helps To
Understand Our Audience Better

Increase User Experience/Interface

Increases Pr

oductivity Of Marketing

Increases ROI

Identifying Micro-influe

ncers

AI in CRM(Customer Relationship Management)
How Can You Implement AI in Digital Marketing
Predictive Analysis
Predictive analytics is the processing of user data to predict future outcomes. Predictive analytics can be used to predict customer behavior and make predictions about what users will do in the future, such as how much they'll spend their money. Also, help to make good product/service suggestions based on user's needs, interests & likes along with personalized user interactive experiences, engage them, & increase commercial sales.
Customer Service
Good FAQ service & Chatbots provide these act like virtual assistants like Google Assistant or Siri with good in-time quick response and answer service. They can able to provide answers to common questions that are being asked and engage in human-like conversation with customers/users. Advanced chatbots are smart enough to change the minds of customers in order to persuade them to buy/like their product/ services so that even though once leave their site once so customers can an urged to visit their site once again. Brands like Starbucks & CoffeeGiant use this strategy.
Data Analysis
Adopting AI, based on the user's interests that are collected from the user's Google search activity, social media usage of Facebook, Instagram, Tumblr, etc. For example, you may want to know how many people clicked on your ad or website. To do this you will need to collect some data on clicks and how much they cost (price per click). From that data analysis, we find users' demographic interests, likes, and preferences and then relevantly show Ads improving the performance of digital ad campaigns.
E-Mail Marketing
Businesses use email to promote their product or service but it's actually more than that. It is an exciting tool where you're communicating personally with customers building trust and credibility with prospects creating leads, and generating sales plus giving customers an engaging experience. For Example, example newsletter allows you to provide updates and cool content directly into your customer's inbox. We can eventually send mail to them and give exciting offers and also display ads.
Social Media Marketing
Social media ads are a versatile advertising option that allows you to build specific campaigns on different social media networks. Each campaign can be built to meet a variety of different business goals at a relatively low cost based on the data. Social media platforms are able to acquire their user's data which helps to offer highly personalized and relevant content. This can expand your conversion opportunities and introduce your brand to more potential customers. Using past purchases or viewing history to improve their recommendation engines.
Dynamic Pricing
Dynamic pricing means Demand pricing, It is based on current market demand. Businesses need to change the price of the product or services as per the demand. There is also an AI tool for Dynamic pricing. This will help the E-Commerce website to achieve more sales on demand.
Examples of Artificial Intelligence in Digital Marketing
Chatbots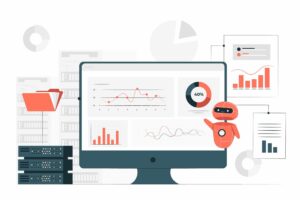 A chatbot is an important tool in Digital Marketing. This AI is software that is used in a website for automotive conversation with users to interact via text or text-to-speech. This AI software is designed to simulate human conversational behavior. Now Chatbots uses for various purposes like Customer Services, Virtual Assistants, etc. Chatbots are mainly used in E-Commerce, Educational, Health, News, and Productivity websites
Grammarly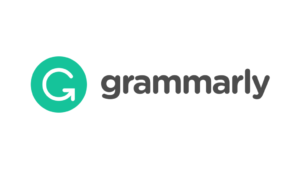 The next Artificial Intelligence in Digital Marketing is Grammarly. Grammarly is a typing assistant that helps to identify better words for the sentence and replace the mistaken words with them. It is an artificial intelligence that understands spelling, grammar, punctuation, and delivery mistake. Grammarly was launched as a program for teaching English to students. Now Grammarly is available as a Chrome extension and helps users for creating content without grammar mistakes. in 2022 Grammarly donates its profit from 2014 because of the Russian invasion of Ukraine.
Enhanced Shopping Experience
Using AI we can provide a better shopping experience for the customers. International Brands like Lenskart and IKEA provide virtual reality assistance to customers for making their shopping easy. With this technology, users can try the product virtually. Even Clothing stores use AI to check out how their dress will match their body & face structure by simply standing in front of an artificially augmented screen to see their virtual version. Another best example is the Amazon Go shopping store which is currently the most advanced AI-integrated shopping with no busy shopping lines & no checkout where we grab things out & go.
Conclusion
Now you understand why Artificial intelligence is important in Digital Marketing. AI is growing and changing fast. Artificial Intelligence in Digital Marketing helps brands to promote their product and helps to deliver a better user experience. AI helps Marketing professionals to maximize their effort. It has also a huge scope in other sectors like Medical, Transportation, and Banking. Enroll in the best digital marketing course in Kerala, and grab the knowledge about artificial intelligence and its potential power in the future of digital marketing.