" The more you tell, the more you sell " – David Ogilvy
Before jumping into what are the best digital marketing strategies for startups, let's discuss what is marketing.
The earlier stage of every business is to reach out to customers. No business can survive in this market without publicity and marketing. marketing is the combination of different techniques, tactics, and actions. Marketing guarantees the development of your business, no matter what you are using. Marketing strategy has advanced over a period with the rise of digital transformation and the introduction of new communication channels.
Digital Marketing for Startups
If you have got a new business that's in the startup stages your marketing strategy will be very different from someone who has an established business you have much less time available for your audience and is likely very small you have little to no budget and for this reason, the marketing strategies should be unique for a startup.
Digital Marketing
A digital marketing strategy allows you to leverage different digital channels such as social media,  search engine optimization, pay-per-click, and email marketing to connect with existing customers and individuals interested in your products or services.
From social media to text messages, there are many ways to use digital marketing plans in order to communicate with your target audience. Further, digital marketing has minimal expenses, making it a cost-effective marketing technique for small businesses.
The problems faced by startups
The digital marketing challenge faced by small businesses is to find new customers, here comes the importance of the best digital marketing strategies for startups.
Marketing starts with competitor analysis, which is to understand their moves and work according to the trends. Most companies are not able to understand the customer business and the effectiveness of mapping the Target
Audience
and Buyer Persona plays a vital role in this business.
Digital Marketing Strategies for Startups
For the growth of startups, you should know the important strategies which help you. Here we have listed the best 5 digital marketing strategies for startups.
Search Engine Optimization
Social Media Marketing
Pay-Per-Click
Content marketing
 Email Marketing
Search Engine Optimization
SEO is one of the best practices to increase the visibility of a website. You are basically putting yourself to the target customer at the exact moment they are searching for what you offer.
The target of every business owner is to be present on the first page of SERP. Through SEO tactics we can reach our targeted position it may take some time but it's definitely worth it.
The most important things we should take care of while doing SEO are:
High Quality and relevant content
Mobile Friendliness
Loading speed
Add your website to local and business directories
Review your competitors
Create appealing images to engage viewers
Build high-quality backlinks
If you are looking for a long-term result then you should seriously consider SEO.
To know more about how to become an SEO expert in 2022 check out our new blog.
Social Media Marketing
Social media marketing (SMM) uses social media networks like Facebook, Twitter, Youtube, and Instagram for marketing products and services, engaging with existing customers, and reaching new ones.
A start-up can make use of it to the fullest. It helps the business to connect with their target audiences, find leads, we can collect feedback about our services, run ad campaigns, etc. Social media can also be used to launch a new product or service.
Social media increases the brand awareness of your company. It's a chance to showcase what our company stands for in front of the public and also what not for. Competitor analysis can also be done using social media.
Social media marketing has revolutionized the way businesses are able to influence consumer behavior from promoting content that drives engagement to extracting personal data that makes messaging resonate with users. Because social media today is present everywhere, marketing techniques using these platforms are essential for businesses.
Pay-Per-Click
PPC or pay-per-click is a type of internet marketing in which advertisers pay a fee each time one of their ads is clicked. Pay for advertising is done only if your ad is actually clicked on. It's actually a method of 'buying' visits to your site and driving website visits organically.
The ultimate aim of a business is to increase their website traffic, PPC will bring a kind of traffic called paid traffic.PPC ads are seen on the SERP based on the relevance and validity of the advertisements. So you must ensure that your Google ads have a good quality score to boost your ad position on SERP and lower your cost per click (CPC)
Content Marketing
Content marketing is a marketing strategy used to engage, attract and retain an audience by sharing and creating relevant videos, products, articles, and other media. Examples of content marketing are Educational articles, Videos, Webinars, and E-books
Types of content marketing
Blogs
Infographic
Videos
E-book
Case studies
Checklists
User-generated content
Email Marketing
Email marketing is a powerful marketing channel that uses email to promote your business's products or services.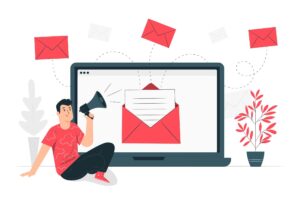 Email marketing is a marketing strategy that uses email to deliver commercial messages such as discounts, new products, and other services to generate sales. It plays a vital role in your marketing strategy with brand awareness, lead generation, building relationships, or keeping customers engaged between purchases through different marketing emails.
Conclusion
Digital marketing is the most effective way to promote your businesses in this digital world, especially for startups. You can establish your business ideas on a wide range of audiences by adopting the proper digital marketing strategies for startups. Enroll in the best digital marketing course in Kerala, crack the latest digital marketing strategies and grow your startups.