Artificial intelligence (AI) products are interesting to digital marketers on a number of levels due to automation and scalability. Choosing the best tool could be overwhelming with so many new ones appearing on the market at a fast pace.
Best AI tools for four types of digital marketing activities:
Advertising creative and copy

Copywriting assistants

Content creation and generation

Social media automation
BEST AI TOOLS FOR AUTOMATING AD CREATIVES
AdCreative.ai
AdCreative.ai probably employs AI algorithms to produce ad creatives depending on user inputs, including target audience, ad location, and preferred format. Users may be able to alter their ad creatives' colors, add text, and apply effects using the tool's basic picture and video editing features. Users may be able to test various ad creatives and determine the most successful ones using AdCreative.ai's A/B testing functionality.
Ad targeting options may be available in the tool, allowing users to locate and target particular audiences based on their demographics, interests, and behaviors. AdCreative.ai may offer analytics and reporting capabilities, enabling users to monitor the success of their advertising campaigns and make informed decisions.
The tool offers three membership-based plans: Startups, Professionals, and Agencies. Startups cost between $21 and 111 per month and offer a predetermined number of credits to produce creatives. Similar to this, the Professionals membership offers a tailored plan for individuals wishing to scale and has a monthly starting price of $141. Users who purchase an annual membership get two months for free.
Additionally, users can try out the service for free for seven days with one project before deciding to sign up. 
Abyssale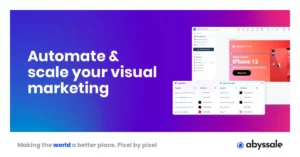 A popular creative automation option is Abyssale. For a variety of industries, including real estate, events, emails, products, travel, marketing, technology, and more, Abyssale offers more than 100 designs. From there, users may employ an endless supply of automatically created photos and videos for their email, social media, and organic marketing campaigns. Even if you choose a template at first, Abyssale is quick and produces ad creatives with the possibility to customize them. By offering the option to export vast quantities of creative assets, the company positions itself as an alternative to working with a design agency or for businesses committed to exponentially increasing their creative output.
Based on the number of users and monthly credits offered, Abyssale provides four subscription tiers. For $39 per month, the Essential package offers 1K credits to a single user. Advanced users pay $63 a month to receive 2K credits, 5 seats, collaboration features, and dedicated support. Users that pay $239 for a premium membership receive 50K credits per month, 10 seats, collaborative features, and dedicated support. Users that pay for their package annually can unlock a 20% discount. You can ask for a customized Enterprise account that better meets your demands if you want a flawless, tailored solution. No credit card information is required during the free 7-day trial period for all new customers.
Hunch
Hunch is an effective technology that accelerates the production of both picture and video ads and has the added advantage of automating the ad-buying process. Hunch is especially beneficial for brands and companies that wish to use customization in omnichannel campaigns due to its automated ad templates. This is accomplished by doing an analysis of the data included in your owned social media channels, which offers deeper insights into what performs best and how to further capitalize on that to provide experiences tailored to your users.
Hunch also offers creative localization for foreign brands and products to assist you in contextualizing your messaging based on where your users are from. Each user has a dedicated Customer Support Manager who is a licensed blueprint specialist for Meta. Hunch also offers technical support via a Slack channel.
No membership plans or fixed prices exist. You must complete a form choosing the features and tools you wish to employ in order to receive your particular quote.
BEST AI COPYWRITING TOOLS
Craftly
when training its models, skillfully using reinforcement from real individual feedback. Depending on the preferred style of a single user, they switch around the models and training. Created material is more likely to sound conversational and natural. Craftly supports more than 100 features for a variety of communications and media, including social media postings, lengthy blogs, online content, email outreach, advertisements, and e-commerce, among others. 25 languages are supported by Craftly.
The main offering of Craftly is its long-form Blog Builder. It provides numerous possibilities for each segment of your article in addition to helping you build a whole essay on any subject of your choice. Users can also add information about their brand tone, which boosts their voice throughout the piece and increases customization. Another important distinction between other AI copywriters and the technology itself is the tendency to lose quality, particularly for lengthy requests. Create long-form excellence in short form.
Crafty offers consumers a few alternatives based on word counts. For $29 per month, the Starter subscription offers 20K word credits. For $66 per month, authors and small business owners can purchase the Crafter subscription, which offers unlimited word credits. Enterprise-level subscription costs vary depending on the number of seats, the custom word count, and the quantity of training required. There is also a free trial period of five days.
Semrush SEO Writing Assistant
The SEO Writing Assistant (SWA) enables authors to optimize their work based on the SERPs and their desired keywords. You can obtain suggestions for improving content and optimization in real-time by directly entering your material on the Semrush interface or by utilizing one of the integrations (Google Docs, Microsoft Word Add-On, or WordPress plugin). The application can also identify plagiarism from all over the web and includes metrics for readability and voice. Following a content analysis, SWA offers a score out of 10 along with a list of suggestions for how to improve and polish your writing.
Semrush offers three subscription levels. The Pro package provides 5 projects with 500 keywords to track for $119.95 per month. Guru users receive 1.5K keywords to track, and 15 projects at $229.95 per month. Business users have 5K keywords to track and 40 projects at $449.95 per month. Users can unlock a 17% discount on their package when billed annually.
Grammarly
Grammarly is an online writing tool that provides a number of features to aid users in writing better. Grammarly provides a grammar checker that finds and fixes spelling, punctuation, and grammatical faults in your writing. Additionally, the program looks for problems with conciseness, clarity, and style and makes recommendations to help you write better. A plagiarism checker provided by Grammarly analyzes your content for possible instances of plagiarism and offers recommendations for paraphrasing or citing sources. Using the tool's personalized dictionary, you can add particular terms to your writing style and have them automatically corrected. Grammarly provides platform integration for a number of applications, such as web browsers, Microsoft Word, Google Docs, and others.
With no limitations on usage or word count, Grammarly provides an account that is always free. The Premium subscription is $12 a month and gives you access to improvements in clarity, vocabulary, and tone. The Business tier begins at $15 per member each month for larger firms and teams.
BEST AI CONTENT GENERATORS
ChatGPT
ChatGPT is a conversational model powered by AI that can answer a variety of user questions and have natural language discussions. ChatGPT can converse with users about a variety of subjects, including general inquiries, requests about education, and discussions about entertainment. Advanced machine learning methods are used by the model to comprehend natural language questions and react with precise and pertinent information. Users can communicate with the model at any time of the day or night because of ChatGPT's availability at all times. Based on the user's prior interactions, preferences, and interests, the model can offer individualized responses.
As part of its research preview period, ChatGPT is presently available for no cost.
Jasper AI
Jasper AI, an AI copywriter, can produce high-converting text for advertisements, blog posts, landing pages, and other marketing materials. The program asserts that it may reduce content creation time by 10X while still providing customers with 100% original content. With the ability to access keyword optimization tools, the integration of Jasper AI with Surfer SEO also enables you to create original photos as well as long-form and short-form content. You can easily create content on the social media platform of your choice, such as Gmail, Outlook, Salesforce, or any other messaging service. Additionally, it has 29 supported languages in its database, making it a desirable option for international brands.
At each of its subscription levels, Jasper provides a risk-free, five-day trial. Starting at $24 for 20K words per month for the Starter level and $49 for 50K words per month for the Boss Mode, respectively. At all subscription tiers, users can adjust their account requirements, offering teams more flexibility as they expand. For growing teams and enterprises, Jasper also offers a custom Business plan.
BEST AI TOOLS FOR SOCIAL MEDIA 
Smartly.io
An AI-based advertising platform called Smartly.io is intended to automate and optimize ad campaigns on several social media sites, such as Facebook, Instagram, and Pinterest. In order to target the proper demographic and get the greatest results, Smartly.io optimizes advertising campaigns using cutting-edge machine learning algorithms. Businesses can design and test several ad variations on the platform in order to determine which ones are most successful. With the help of Smartly.io's automation and scaling tools, firms can efficiently handle numerous ad campaigns. Businesses can evaluate ad performance and gauge ROI using the platform's analytics and reporting tools.
On its website Smartly.io does not provide prices; you must request a trial to go over your objectives and get professionally onboarded.
Celtra
The idea behind Celtra is to support creative automation while preserving brand control. Celtra can be a good solution for brands with sizable advertising budgets if agencies and media publishers require hundreds or thousands of possibilities for a single campaign. The platform for creative automation employs artificial intelligence to create large-scale creatives for performance branding and social advertising. Although Celtra's services are applicable to any business, it primarily targets the fashion, retail, and consumer packaged goods (CPG) sectors.
Additionally, Celtra doesn't provide price information on its website; instead, you must contact its sales team directly to schedule a demo.
AI AND DIGITAL MARKETING
The landscape of digital marketing is already changing as a result of artificial intelligence (AI), and major long-term effects are expected. Digital marketing will use AI to contact and engage customers in a way that is more efficient, effective, and personalized. As such, it's a means of boosting productivity and aiding in the automation of more repetitive operations. To make sure that AI is used ethically and in the best interests of customers, it will also be necessary to carefully evaluate ethical and regulatory issues. The digital marketing course Thrissur gives you the proper guides on how to use AI effectively and ethically.