"Digital Transformation is a fundamental reality for business today."
-Warren Buffett
It is no lie that we live in a constantly changing and updating digital world. Gone are the days when digital access was limited to society's privileged or creme strata. Digital Marketing transformation has also become unavoidable with the advancement of technology and digital revolutions.
So what is Digital Transformation?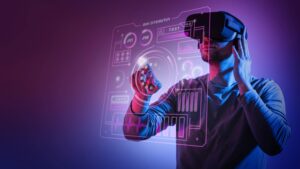 Digital transformation is the process done to harness the future of a company by updating and upgrading the company strategies and functions along with the constantly updating world with the utilization of technological and digital possibilities.
In short Digital transformation is the process of future-proofing a company
Digital Marketing Transformation and Future
With the dawning of the metaverse and web.3, the possibilities in the future lie vast and it is time for companies to focus on embracing digital transformations.
With ever-expanding paths and choices unfolding, marketing now holds a pivotal role in the digitization process to find something that won't sell online"
Everyone has adopted the digital world and embraces it wholeheartedly, here lies the opportunity to turn up the digital marketing game.
Despite this fact, there are so many hurdles that lie before the digital marketing transformation.
These hurdles stunt the digitization process of digital marketing and in fact, it directly affects the growth and future of the companies themselves.
The Resistance to Cultural Shift in the Organization
Digital marketing Transformation is a cultural transformation from the traditional way of doing things. It's a brand-new concept that has struck the world like a hurricane.
Introducing new innovations and technologies to a company is always a difficult task as the management and the seniors have uncertainties to invest in a new area. With an attitude of 'If it works don't change it", most companies are going through this phase of reluctance, and this results in non-transformation to digital marketing from the traditional one, this hesitation in the cultural shift can really affect the company in the coming future. Downfall of Blockbuster is a prime example why you should undergo digital transformation
Issues in Data Management and Cooperation
Digital marketing is a field that requires strategic planning, brainstorming, and insights and it most importantly requires data on products and services and potential customers and clients. Access, to these data, is necessary for an effective digital marketing plan or strategy to be built and worked on and it would be an uphill task for sure. So to get all people on the same page to get quality data to the team is uttermost important.
For a digital marketing campaign or team to workout it needs
Indication and directions about the objective
Proper allotment of budget
Road maps and outlines explaining the channels and the strategies working on
Customer insights and desires
Risk Averse Work Culture
According to HR studies, more than 50% of companies usually follow a risk-averse strategy for avoiding unprecedented losses. With digital marketing experimentation and risks taking is the core part of getting the best strategy for the company
However, a professional digital marketing team knows what to market without risking much. Digital marketing can be a risk-free investment if you know what contents attract the audiences to You.
Lack of Talent
The biggest issue a company can face in digital marketing is the lack of talent in the field. Without the right set of skills, a digital marketing campaign cant survives and produce the desired results.
Digital marketing is more than placing an ad or posting some product picture on your Facebook or other social media handles. It needs a certain special set of skills and the right knowledge of how and when to implement the right skills. As with every other field Digital marketing also needs experts There are a lot of materials available on the internet to learn digital marketing but without proper practical knowledge hiring them can backfire there are academies that provide the best advanced digital marketing courses also. Keep in mind, experts can be the difference between a successful digital marketing campaign and a disastrous one.
Too Much Uncertainty?
The most often talked about topic in the case of digital marketing is its uncertainty in determining what will work out and which won't, From earlier days this uncertainty caused companies to not invest much into digital marketing and kept on going with their trustworthy yet low-yielding traditional ways,
The thing that the companies need to realize is there is no one solution for all scenarios to run a campaign or to strategize. It is a constantly evolving and upgrading field and experimenting is a part of digital marketing. Once the way is found digital marketing can recap results and track the results in a way that traditional marketing ways could never ever imagine,
Get Your Skills Ready
We live in a digital world of constant change. If you want to stay ahead in the market you have to adapt and evolve with the digital world. For that, you have to hone your digital marketing skills. Getting an advanced diploma in digital marketing can be the way towards it, with the availability of lessons and strategies on the internet. Digital marketing is not a hard nut to crack/All you need to do is put in a genuine effort and the digital world can be yours.
Conclusion
As we have seen above a digital marketing transformation in a company has to overcome a lot of hurdles. Digital marketing transformation is not only a technical or marketing change but it is the overall change in the work culture and whole organizational viewpoint. To future-proof the company and not lag behind the digital race happening a company has to be at the forefront of the race itself. Today digital transformation in marketing, or in other terms digital marketing transformation has become a necessity rather than a choice, and it's high time we embrace the inevitability of change. Enroll in a digital marketing course Thrissur, and learn more about digital marketing and the latest trends.