With Universal Analytics being gradually phased out, now is the best time to get to know Google Analytics 4.
Google Analytics 4 (GA4) provides you with greater data collection accuracy than Universal Analytics (UA) and allows you to track the user journey across websites and apps.
Google Analytics 4 also features new reports and enhanced Universal Analytics features. While GA4 is not a complete departure from Universal Analytics, the new features do take a little while to get used to.
In this guide, I'll cover everything you need to know about Google Analytics 4 including how to migrate from UA and how to navigate around the new platform.
What is Google Analytics 4?
To define it simply: Google Analytics 4 is a cross-platform analytics tool that allows you to track site visitors and monitor key user behavior metrics, which goes beyond just tracking traffic. This paints a fuller image of what users get up to when they land on your site.
It's cross-platform in the sense that you can now measure how users engage with both your website and app—which is a first for Google Analytics.
Google Analytics was originally launched way back in 2004 and has undergone many updates in the time since. It has always been a reliable tool, but the newest version, GA4, reaches brand-new peaks in terms of usefulness.
The customer usage metrics allow you to track the user journey through Google Analytics 4's Funnel Exploration feature which shows you the exact steps users take before completing a conversion.
This feature allows you to track how effectively the funnel is followed which gives you a better understanding of the conversion process.
Not only is this data more insightful, but it is also gathered using a privacy-first model. GA4 uses data anonymization by default, meaning it no longer stores the IP addresses of site visitors (unlike Universal Analytics). While this is mainly beneficial to the site user, it does help you easily comply with the latest privacy laws, such as GDPR and CCPA.
Another major leap that Google Analytics 4 takes is in its embracement of AI technology. Machine learning algorithms are used to provide you with purchase, churn, and revenue predictions for the future (more on this later). With this, you can get ahead of the curve in terms of emerging user trends.
Plus, it can greatly improve the accuracy of your retargeting campaigns. Retargeting ad campaigns involve targeting products to users who have previously visited your site or bought one of your products in the past.
Machine learning can help you narrow down your retargeting campaign to only target those who are most likely to become conversions.
By being able to identify potential future conversions, you can better organize your marketing campaign to secure them.
Google Analytics 4 Vs. Universal Analytics
The best way to highlight what Google Analytics 4 would be to directly compare it to Universal Analytics, and highlight areas that have either been improved upon or remain the same (while also examining the brand-new features that one can find exclusively on GA4).
Machine learning
Google Analytics 4 is the first version of GA to integrate machine learning and AI. Therefore, it can now provide you with detailed insights into user behavior.
Interestingly, Google Analytics 4 does not need cookies to operate. Instead, it uses machine learning to fill in data gaps (left by users who opt out of cookie usage) and provide you with reliable insights into user history — without the need for cookies.
Through the power of AI, Google Analytics 4 takes your past data, analyzes it, and makes useful predictions about future user behavior. Analyzing how users have interacted with your page in the past provides you with a degree of insight into how they might in the future.
Google Analytics 4 then displays its predictions through its AI metrics, which are as follows:
Churn probability — The chances of a user who was active in the last 7 days not being active again in the next 7 days.
Purchase probability — The chances of an active user in the last 28 days becoming a conversion in the next 7 days.
Revenue prediction — How much revenue you can expect to make over the next 28 days from a user who was active in the last 28 days?
With this data gathered, you can create intricate target audiences for future social media and Google Ads campaigns.
For example, these AI metrics can help you create an audience consisting of site visitors who are likely to return and spend $50 in your e-commerce store. Or, users who are likely to purchase a product in the next 7 days.
Determining the probability of such events manually would be next to impossible — which is why the addition of machine learning to GA4 is so useful.
Dashboard
The dashboard on Google Analytics 4 is completely different from that of Universal Analytics — but don't let this alarm you. The dashboard has been changed for the better, with all essential metrics and data laid out in a clearer and more streamlined fashion.
The Universal Analytics dashboard looked like this:
Universal Analytics dashboard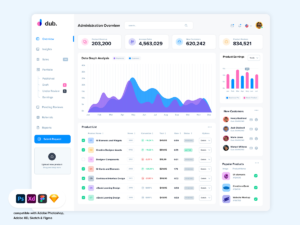 The Google Analytics 4 dashboard now looks like this by default (you can reorganize it according to your needs—more on this later):
Google Analytics 4 dashboard
As you can see, the "Users" metric on the left is still the main focal point of the page. However, instead of "Sessions", "Bounce Rate", and "Session Duration", you've got:
"Event Count"—A real-time report of how many events have been completed over the last 7 days. As we'll explore later, "Events" count as several things — it does not simply refer to purchase conversions. A user playing a video on your site can count as an event, as can a site visitor signing up for your mailing list.
"Conversions"—This refers to any event that has been completed that is of high value to your website. For example, if a site visitor buys one of your products or subscribes to your service or newsletter.
and "Sessions"—This metric reflects how many times a user has landed on your domain, regardless of whether they completed an event or not.
These can be shown here:
User metrics on Google Analytics 4
As default, these metrics will be set to show the last 7 days, but you can change this window at the bottom left-hand side of the graph:
Metrics shown for last 7 days
On the far right of the dashboard, you can see how many site visitors you've received over the last 30 minutes.
This is similar to Universal Analytics' "Active users in the last 5 minutes" feature. The big difference is that you can review the country of origin of most of this recent traffic directly below the graph:
Site users and their country of origin
Just like in Universal Analytics, each bar on the chart represents each minute in the last half hour.
If you hover your mouse over one of the bars, you can see exactly how many visitors you had 12 minutes ago, for example:
Google Anlytics 4
However, if you're not happy with the new dashboard set up, don't worry: you can totally customize your dashboard (much like you could on Universal Analytics). This way, whenever you log into Google Analytics 4, you're met with only the reports that matter to you.
Additionally, you can also create custom visualizations for your GA4 dashboard in Google Data Studio. To do this, you'll need to add GA4 as a "data source" on your Google Data Studio account.
The "Reports" section is also different.
You'll find the reports section underneath "Home" on the main menu:
Reports section below home
Click on this, and you'll be presented with your "Reports snapshot":
Report snapshots
"New Users" is a metric that has been lifted from Universal Analytics.
It provides you with seriously helpful insight into how your marketing efforts are going—which is why it can now be found on the main reports dashboard:
New user metrics
Specifically, it allows you to understand how well you're marketing your site and how many new users are finding your site, given that this metric reflects new interest in your website.
If you click on "Realtime Reports" on the left-hand menu:
Google Analytics 4
you can get more insightful data. You can review what device your users are visiting from, whether it be their phone, tablet, or desktop.
You can also review where in the world these users are based, using the large world map:
See your site visitors on a map
If you scroll down the page, you'll gain a quick snapshot of:
A variation of user metrics
Users by First user source —This reveals where users were before they arrived on your site. Site visitors could visit your site by simply typing in the URL of your site, or via either the SERPs or by clicking on a link from an external page. With this, you can determine which source is providing you with the most traffic currently.
Users by Audience — Here, you review how your users fit into different categories. With Google Analytics 4, you can create custom audiences that can help you break down and analyze your data. As you can see from the screenshot above, I don't have any set user categories listed. This is because I haven't defined any set audiences I want to track yet. (I'll show you how to create a custom audience later in the article).
Views by Page title and screen name — An obvious one, this displays the web pages that each of your current and recent site visitors are viewing. With this, you can see which of your web pages are gaining the most interest.
The "Life Cycle" reports section has also been totally revamped. As you can see underneath the main Life Cycle heading:
Life cycle reports
…there are 4 main headings:
Acquisition
User acquisition looks at where new customers come from (either organic search, direct, referral, organic social, or organic video):
Acquisition – see where new users come from
while the traffic acquisition looks at both new and returning site visitors:
GA4 16
So, rather than looking at only the session default channel group of just new site visitors, traffic acquisition looks at the channel group of all your site visitors.
Engagement
This area looks at the actions the users take once they are on your site. Engagement reports include conversions, events, pages and screens, and landing pages.
All of this can give you a quick glimpse into how users interact with your site.
Most importantly, you can use this section to analyze the landing pages your site visitors are landing on most frequently.
Analyzing which pages most of your site visitors are landing on couldn't be easier on GA4. All you have to do is head over to "Landing pages" which you'll find under "Engagement":
GA4 17
…and you'll be able to review the pages that are pulling in the most users, as well as how long users are spending on average on each landing page.
Monetization
Here, you'll find reports on how user engagement translates to monetization. Not only will you find reports on e-commerce purchases, but you'll also be able to review the user purchase journey as a whole, and how publisher ads and promotions helped secure the conversion.
Retention
This area allows you to review how well you retain customers. Graphs and charts include retention by cohort, user engagement, and lifetime value.
User retention by cohort is probably the most valuable graph in Retention, as it allows you to analyze how many of your returning customers share characteristics:
User retention – see shared traits of returning customers
In the above example, the graph shows you the retention of customers based on the first day they arrived vs 7 days later.