How to become an SEO Expert in 2022?
When a website is launched, we need to do the SEO for the site to make it visible to rank high in the search engine list.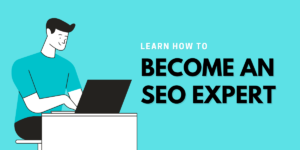 Who is an SEO Expert?
An SEO expert is the one who does optimization on a website to rank high on the search engine result page. By doing SEO we can draw more traffic to our website. Seo experts will know the tips and tricks to draw high traffic. An SEO expert should know various search engine algorithms, perform keyword research and link building and also have technical knowledge. An SEO Expert will work in a corporate setting with other marketing teams to set strategies and follow up on the latest marketing news to stay up to date. An expert should have critical thinking and writing ability.
Learn how to become an SEO expert here.  Understand the skills to know how to become an SEO expert. Learn the strategies and tactics for how to become an SEO expert in 2022.
Best SEO Techniques to become an SEO Expert
-Optimisation of content in the right way
-Need to have an appropriate word count
-High readability
-Keywords at the right density
-Use optimal meta title and meta description
Key skills to become an SEO Expert in 2022
-A keyword should be low competitive and have a high search volume.
-Basic knowledge of  Html
-Have an idea about how and where to add a keyword to a website
-Have a copywriting skills
-Create a link-building strategy and promoting to key pages
-Have an understanding of technical SEO and ranking
-Update about google algorithm and SEO trends
Some of the SEO tools an SEO expert should be familiar with:
Google Search Console:
It gives information about our website.
Google Analytics:
User's navigation and traffic on the website.
Google Keyword Planner:
It is to research the keywords.
Moz :
It is used to audit the target audience.
Google page speed insights:
To check the time taken for page loading.
If you want to rank your page high, An SEO Expert should analyse the below points:
-analyse the content of your competitor. Maybe they have better content.
-check that the keywords are used effectively.
-Strong link building.
-Webpage load time should not be compromised. It should not be slow.
-webpage user experience and navigation. It helps users to stay on your page for a long time.
What are the responsibilities of an SEO Expert?
The optimisation is the main responsibility of an SEO Expert.
Technical Optimization:
Technical Optimization refers to a website optimisation to crawl and index the site more effectively. It checks that the site is mobile-friendly or not. And the speed of the site.
A site using SSL is prefered. Fixing the duplicate contents. The quality of a site is determined by google through the number and quality of other websites that link to a page or site.
On-page optimisation:
The site's content should contain the targeted keywords. Targeted Keywords can be put on meta titles. Meta title will be the headline of the search listing. A meta description may not be on your actual page. It increases traffic to your site. Body content should be unique, engaging and sharable. Image and alt text (Alt attribute shows the description of an image if it cannot be viewed by the user). It should not be keyword stuffed. URL Structure (A short and descriptive URL is prefered)
Off-page optimisation:
To rank high on the search engine result page, some actions are taken outside of our website. The main part of off-page SEO is building backlinks. Some of the linking sites pass equity to our website based on the link's popularity, the anchor text used on the site, Domain authority and page authority etc. Through social media, you can increase traffic to your website. Guest blogging can be done. Creation of infographics and videos. A press release can be conducted.
Keyword Research:
An SEO Expert will perform keyword research by finding the low competitive and relevant keywords to make a conversion.
Analytics:
SEO Experts will regularly track and analyse the page to know how it works and whether the keywords are performing well. Here we can analyse whether our SEO strategy is working or not.
Steps to become an Seo expert
-an expert should have basic knowledge about how the search engine works.
-SEO strategies and concepts
-knowledge of SEO tools
-the experiment of SEO tactics on the website
-show your efforts to employers
-update about new trends
-practice SEO training
-analyse performance metrics
Learn about the scope of performance marketing.
<script type="application/ld+json">
{
"@context": "https://schema.org",
"@type": "BlogPosting",
"mainEntityOfPage": {
"@type": "WebPage",
"@id": "https://dotinacademy.com/how-to-become-an-seo-expert/"
},
"headline": "How To Become An SEO Expert In 2022 – Dotin Digital Academy",
"description": "Learn how to become an seo expert and the qualities needed to become an seo expert.",
"image": "https://dotinacademy.com/wp-content/uploads/2022/06/how-to-become-an-seo-expert.png",
"author": {
"@type": "Person",
"name": "Hamzad",
"url": "https://dotinacademy.com/author/hamzad/"
},
"publisher": {
"@type": "Organization",
"name": "Dotin Digital Academy",
"logo": {
"@type": "ImageObject",
"url": "https://dotinacademy.com/wp-content/uploads/2022/04/Logo-Header.svg"
}
},
"datePublished": "2022-09-01",
"dateModified": "2022-09-22"
}
</script>