Reviews are opinions about products or services based on using the product or experiencing the service. Customer reviews and ratings in digital marketing help to attract new customers and show the value of your company's products or services. It also helps to increase the confidence to purchase your products. Most customers visit the assessments in the final stage of their purchase. Positive reviews and high rating of your product helps the customers to choose your product. Customer reviews will help in building your strong brand reputation. It can have a significant impact on a business's revenue. Positive reviews on your product or service will increase conversion, while negative reviews and low ratings will decrease conversion and affect your revenue.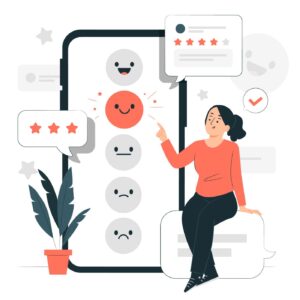 Increase Conversion Through Customer Reviews and Ratings
Customers will have the curiosity to know about the product which they are looking for. Positive customer reviews are mostly leading to conversion. Customers trust the reviews and consider that as criticism or recommendation from a friend. In e-commerce platforms to acquire customers, trust is the key. If customers feel good, they will continue to buy. To increase customer confidence ratings and reviews from users are more helpful. Some customers will not buy the products if the site has no reviews. That's because customers consider reviews as honest opinions and unbiased. And also bad reviews and lower ratings helps to improve your product and quality.
Social Proof
Social proof is the external social cue that helps customers to make decisions. Many peoples tend to buy products after seeing a good review about the products which they are looking for. The presence of positive comments from the customers makes the business trustworthy. Most of the common brands and websites highlight the customer's reviews and experiences to attract more traffic. A potential customer will read the reviews before making a purchase, so positive reviews help to grow your business. 
Competitive Advantage
By analyzing the customers' feedback companies can ascertain whether customers are satisfied or not. From the positive reviews, customers can understand the quality of your products and how good is your customer service. It also builds trust in the people who don't even know about your product. Negative reviews also help to understand what disappoints customers, and you can improve internal processes. By correcting your drawbacks you can provide a better service to the customers. Having many reviews improves the social credibility of your business. With more positive feedback you will get more quality leads and therefore increase the conversion rate.
Trust and Credibility 
Positive customer reviews and high ratings help to improve the trust and credibility of products or services. When the customer knows about the good experience shared by other customers, it increases the trust among the potential customers and enhances their confidence in the product or brand. Good reviews make customers build their purchasing decisions. Also, it helps to increase customer satisfaction. Customer reviews act as social proof, increasing the likelihood of conversion and assuring the potential customers that others have had satisfactory experiences. Customer reviews and ratings in digital marketing demonstrate credibility and create a sense of trust in a product or service. 
Influence of C
ustomer Reviews and Ratings
Customer reviews and ratings greatly affect consumers' purchasing decisions. Many customers try to find reviews and ratings before buying a product or brand. They want to know about the product's quality and features, fair price, and suitability for specific needs. And they look for detailed reviews or answers to their questions and overall customer satisfaction. Positive reviews build their confidence to make purchasing decisions. It can influence potential customers in favor of a brand, while negative reviews prevent them from purchasing decisions, and they don't have the confidence to make purchases. Good reviews and ratings make buying decisions and it helps to attract more products or brands. 
Search Engine Optimisation (SEO)
Customer reviews and ratings in digital marketing enhance search engine optimization (SEO) efforts. User-generated content such as relevant content, and reviews, adds fresh and unique content to a brand's online presence and improves search engine optimization. Business with positive reviews and high ratings improves online visibility and attracts more organic traffic. It helps to influence search engine rankings. Search engines examine customer reviews as a measure of trustworthiness and relevance. Search engine optimization is the process of optimizing a website and its content to enhance ranking on search engine research pages (SERPs). The aim of SEO is to improve organic traffic to a website by building it reliable and relevant in the view of search engines like Google, Yahoo, etc. 
Word-of-Mouth Marketing
 Word-of-mouth marketing is an important form of marketing. Positive customer reviews and ratings are like an influential word-of-mouth marketing tool in the digital realm. Customers who have had high satisfaction and good experience are more likely to share their experiences with friends, families, and others through online reviews and social media platforms. This helps to boost the reach of a business's marketing efforts, attract new customers and increase brand awareness. Positive word-of-mouth marketing makes sense for a brand or product. And it has a strong power over consumers' purchasing decisions. It creates a perception of reliability and authenticity for a brand or product.
Conclusion
Overall, customer reviews and ratings have a crucial role in digital marketing. It improves trust and credibility, influences the purchasing decision, search engine optimization (SEO), word-of-mouth marketing, competitive advantage, social proof, and increases conversion. Business can increase their power to improve trust, attract new customers, make rank high. Businesses should strongly encourage and monitor customer reviews and ratings to hold their power and amplify their digital marketing strategies and business can enhance their online presence. Enroll in the best digital marketing course in Thrissur and explore more about digital marketing and its various aspects.